NOBODYS GREY GOOSE 
a.k.a. "Dakota"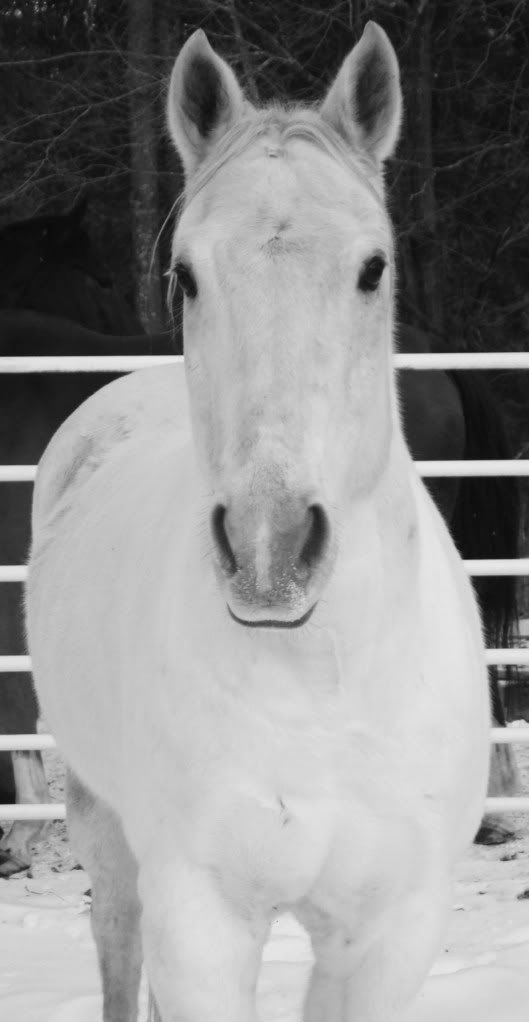 Dakota is an 11 y/o ranch broke registered AQHA gelding. When I was a child I always wanted a dapple grey Quarter Horse...so for my 21st birthday I decided to save this boy from uncertainty at an auction. He was a mess!! He had just been shipped from the Joplin Stockyards to New England. He had horrible feet, was very thin and covered in bites and cuts over his entire body. Now, 5 years later he's all healed up and is fat & happy :-) This boy is my main trail riding man and is an absolute saint. He teaches my beginner rider friends all about how to ride Western and that horses aren't scary.
SPONSORED BY NANCE LEHMAN
Little Miss Muppet 
MUPPY NEEDS A SPONSOR!
Muppet was pulled from a Pennsylvania broker lot in May of 2010 and is a small Shetland or Large Miniature Horse. She has foundered previously and is currently undergoing farrier treatment to repair the damage and is on a specialized diet to decrease the possibility of another founder. Muppet has an amazing personality, rides, drives, loves children and is just an all around stellar little girl! She will serve as a mascot to the rescue and will potentially be used in the future as a pony ride fundraiser pony!
 __________________________________________________________
 Ashland Buzzworthy
"Buzzy"
Buzzy is a registered Welsh/TB pony bred by friend of the rescue Mel Bosworth of Ashland Welsh. Buzz was in need of a new home and change of scenery after a rough few years bouncing around to several homes and now calls SRF his forever home. He belongs to founder of SRFER, Kate Thurlow and is a wonderfully spoiled little pony who is loved by all!
Perm. residents Buzzy & Lefty share a tender moment :-)
_______________________________________________________
SRF Alchemist
"Axl"
Axl is a 4 y/o Haflinger gelding purchased privately from Camelot Feedlot to be a personal riding mount by SRFER founder, Kate. He is a big boy with a fun personality and is about as handsome as a Haffie can come!
______________________________________________________________________________
SRF's Lord Percival 
 
Percy is a handsome, athletic and intelligent Pinto National Show Horse Yearling who was pulled from Camelot Auction in June of 2011 as a scared, skinny and unhandled weanling. Percy has grown and thrived here at SRFER and we have decided to let him stay here to finish growing into the fine horse that we know he will with appropriate care and training. 
________________________________________________________________________________________s
 "Tommy" is a 20+yr old Welsh/TB pony gelding who arrived to SRFER in the fall of 2010 from a neglect/cruelty seizure in Granby, CT. Tommy was skinny, loaded with parasites and HUNGRY! Flash forward 2yrs and Tommy is a healthy, happy and sound pony who loves attention and is still sound enough to work and jump 3'! Tommy was placed in the fall of 2011 but sadly was returned to SRFER in June of 2012. Due to his age and the fact that that we love Tommy and don't want him bounced around....he has become a perm. resident/sanctuary pony here at SRFER :)